Ullen Sentalu Museum in Pakem Sub-District, Yogyakarta - Indonesia
---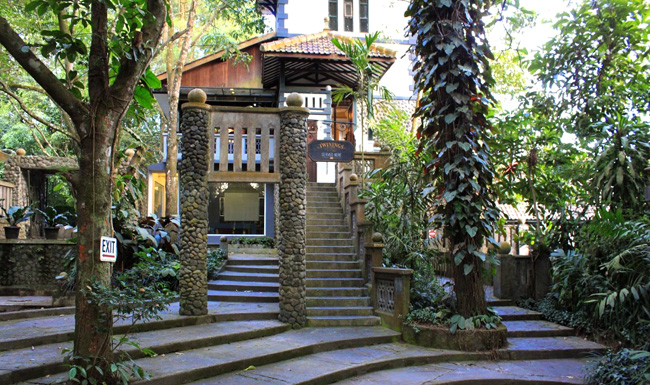 Perhaps some people don't know the fact that Kaliurang owns a unique museum called Ullen Sentalu. Well, it is understandable as most of them may think about hills and waterfalls when talking about it. Well, the museum resides in the west part of Kaliurang and belongs to Hargobinangun Village. Actually, it shares the same location with Kaswargan Park and the access is considered easy as well. It is a private-owned museum, but everyone is allowed to visit the museum anytime. What is in it? The museum displays numerous types of traditional Javanese arts and culture.
The Nuance
In terms of nuance, the museum features a new building instead of the old one. No wonder, the ambiance is both clean and fresh especially due to several plants growing around it. Unlike conventional museums, this one applies a new paradigm so it appears unique and more interesting to visitors. The items have no label so it requires a tour guide to explain everything regarding its information and history. The next interesting fact is that the museum has several rooms, featuring different items and displays. Make sure to explore them all, therefore.
Exploring Ullen Sentalu Museum
As mentioned before, the museum features several rooms in which guests can explore. The first room is the welcome room. The next one is called dance arts and Gamelan room, where tourists can find a set of Gamelan granted by a prince of Yogyakarta Empire. What is next? The guests can explore Guwa Sela Giri Room, which is actually a basement. Inside, several paintings of Mataram Dynasty reside. For more attractions, there is the poetry room. The friends of Koes Sapariyam wrote those between 1939 and 1947, actually.
The next available room to explore is called Ratu Mas Royal Room, which was built as a gift for Pake Buwana X's empress. For those who love traditional arts, they must not miss Vorstendlanden Batik room where they can find lots of collections of local Batik fabrics. As an alternative, Pesisiran Batik room also displays some of these items. Next, they can find "Putri Dambaan" room, where many private photos of Mangkunegara VII's daughter reside including her childhood and marriage-hood photos. Another room to explore is Sekara Bawana where several paintings of Mataram King reside.
Apart from exploring the rooms and art collections of the museum, the guests can simply take some time outside and enjoy the fresh atmosphere. That means photography becomes a worthy activity to do as well on the site. Even the museum architecture is worth a photo shot. Later, they can enjoy lunch at the nearby restaurant and eat several recommended dishes like glazed lamb rack, breaded chicken tender, and lobster!
Nearby Attractions
Merapi Peak
Taman Sari Park
The Lost World Castle
How to Get There
The distance between Adisucipto International Airport and Pakem Sub-District is 28.9 km, so it takes around 1 hour to get to the location. Once arriving at Hargobinangun Village, tourists can hire a guide to get around easily. As for the route, make sure to take Pakem-Kalasan Street.
Where to Stay
Kana Hotel
Sewu Padi Hotel
Setyawati Hotel
Anugrah Wisata Hotel
Eden II Hotel

Latest News
LABUHAN KERATON NGAYOGYAKARTA Labuhan Keraton or the Royal Offerings of Yogyakarta is usually performed on the 30th of Rajab, so it will probably be hold on Thursday, 27 April 2017, at 07.00 am at the "Pendhapa" (Javanese Mansion) of Kretek Subdistrict Office. The Ngayogyakarta Royal servants transfer the vessels of the offering-implement to the Bantul Government. Then the offering-implement is delivered to the "Pendhapa" of Parangkusumo, and given to the caretaker to be arranged in "ancak" (the vessel made of bamboo). After the prayer fort it in "cepuri" (a supporting…
---
https://www.youtube.com/watch?v=218GWVk1pL4 Ratu Boko Palace is located in Jl. Raya Piyungan, 3 km south of Prambanan Temple at Dawung and Sambirejo villages, Piyungan, or 19 km east of Jogjakarta. It opens daily 6 am – 5.30 pm and it entrance fee charged. Ratu Boko Palace is a huge complex built on 16 hectares as the residence of King Boko of the first Mataram dynasty. Local legend says that Ratu Boko liked to eat human flesh. Primarily in ruins, visitors must use their imaginations to fill in historical and structural gaps. Gold…
---
Ratu Boko Temple Settled on a hillside plateau, overlooking Prambanan temple complex and with a view to Mount Merapi behind Prambanan Temple complex, lie the remains of a once grand palace. The palace (kraton) is named Ratu Boko after a King Boko of local folklore, but the real owner of the palace is more likely to have been a king of a local dynasty. Ratu Boko temple is located on a plateau, about three kilometres south of Lara Jonggrang Prambanan temple complex in Yogyakarta Central Java, Indonesia. Grand stone gates,…
---
To support the need of recreational things in Yogyakarta, the accommodation is also increase. In fact, there are numbers of star hotels and non-star hotels that ready to serve their specialties to comfort your stay. Hence, this Hotels In Yogyakarta is made. This application is kind of reference to provide the information and news for tourists that want to stay in Yogyakarta. There are numbers of Hotels and its description, and it can be accessed from iPad, iPhone and Android.  
---