Kali Kuning Hill in Cangkringan Sub-District, Yogyakarta - Indonesia
---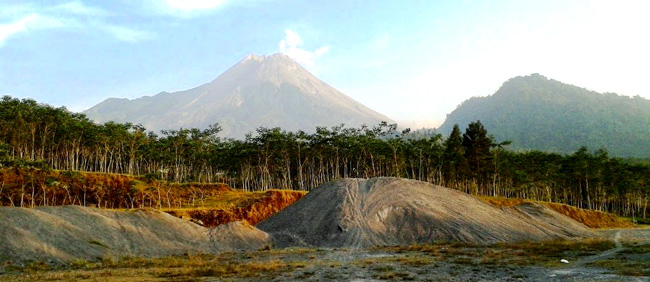 Many travelers have recognized the southern beaches of Yogyakarta Special Region, but they are also aware of Kaliurang which is located in the north part of the city. What is in there? One of the best attractions is called Kali Kuning Hill! It is located in Doyo Village and belongs to Cangkringan Sub-District, Kaliurang Indonesia. Not only the site offers stunning panorama, it is suitable for numerous outdoor activities like outbound training and camping. Those who love trekking can also take advantage of the site to satisfy their hobby, actually.
The Nuance
In terms of nuance, Kali Kuning Hill features numerous natural attractions. For instance, there is the scenery of Plawangan Hill on the west part. On the north, tourists can see the panorama of Merapi Mountain as well. During the exploration, they may meet several local birds including Kebo and Penyu Starling. They are both beautiful and exotic! As for the plants, the most famous ones are Puspa and Soga trees. Also, during holidays, more visitors come to the hill and they build a tent to conduct camping. No wonder, the atmosphere is more crowded than other hills located near to Merapi Mountain.
Exploring Kali Kuning Hill
The most popular thing to do in Kali Kuning Hill is trekking. Unlike other trekking routes in Kaliurang, this one features an easy landscape and more beautiful natural attractions. Moreover, it takes only 30 minutes to explore the site and reach the peak of the hill. During trekking, tourists may see many plants and animals. This includes the stunning pine forest, which emits a peaceful ambiance. As if, trekkers pass through paradise garden! The songs of the birds make it a more meaningful experience, in fact.
In the midst of trekking, tourists can also find a river with its crystal clear water. Near to the river, several Soga and Puspa trees grow beautifully. Not only they look majestic, the trees have a unique story as well. According to the locals, Soga trees won't survive without the eruption of the mountain. No one knows why, though. As for the Puspa trees, they would remain despite being burnt by hot clouds of the volcano! As long as the root remains, those trees would keep living.
The next charm of Kali Kuning Hill is the presence of andesite rocks scattered around the location. As for the fauna, visitors can meet several rare animals like Javanese Eagle and wild roosters. Have no worries. During trekking, they can take advantage of some available facilities as well including food stands, information center, inns, toilets, and parking area.
Nearby Attractions
Pentingsari Village
Kali Dalem
Kepuharjo Village
Merapi Mountain Museum
How to Get There
For those coming from Adisucipto International Airport, the prime destination is Cangkringan Sub-District. Next, they only need to go to Doyo Village and conduct trekking to Kali Kuning Hill. The whole trip takes about 40 minutes and the distance is 20.7 km. As for the route, the best one to take is Pakem-Kalasan Street.
Where to Stay
Rose Garden Family Hotel
Klenting Kuning Hotel
Nguntara Gati Hotel
Puas Hotel

Latest News
LABUHAN KERATON NGAYOGYAKARTA Labuhan Keraton or the Royal Offerings of Yogyakarta is usually performed on the 30th of Rajab, so it will probably be hold on Thursday, 27 April 2017, at 07.00 am at the "Pendhapa" (Javanese Mansion) of Kretek Subdistrict Office. The Ngayogyakarta Royal servants transfer the vessels of the offering-implement to the Bantul Government. Then the offering-implement is delivered to the "Pendhapa" of Parangkusumo, and given to the caretaker to be arranged in "ancak" (the vessel made of bamboo). After the prayer fort it in "cepuri" (a supporting…
---
https://www.youtube.com/watch?v=218GWVk1pL4 Ratu Boko Palace is located in Jl. Raya Piyungan, 3 km south of Prambanan Temple at Dawung and Sambirejo villages, Piyungan, or 19 km east of Jogjakarta. It opens daily 6 am – 5.30 pm and it entrance fee charged. Ratu Boko Palace is a huge complex built on 16 hectares as the residence of King Boko of the first Mataram dynasty. Local legend says that Ratu Boko liked to eat human flesh. Primarily in ruins, visitors must use their imaginations to fill in historical and structural gaps. Gold…
---
Ratu Boko Temple Settled on a hillside plateau, overlooking Prambanan temple complex and with a view to Mount Merapi behind Prambanan Temple complex, lie the remains of a once grand palace. The palace (kraton) is named Ratu Boko after a King Boko of local folklore, but the real owner of the palace is more likely to have been a king of a local dynasty. Ratu Boko temple is located on a plateau, about three kilometres south of Lara Jonggrang Prambanan temple complex in Yogyakarta Central Java, Indonesia. Grand stone gates,…
---
To support the need of recreational things in Yogyakarta, the accommodation is also increase. In fact, there are numbers of star hotels and non-star hotels that ready to serve their specialties to comfort your stay. Hence, this Hotels In Yogyakarta is made. This application is kind of reference to provide the information and news for tourists that want to stay in Yogyakarta. There are numbers of Hotels and its description, and it can be accessed from iPad, iPhone and Android.  
---