Kaswargan Park in Pakem Sub-District, Yogyakarta - Indonesia
---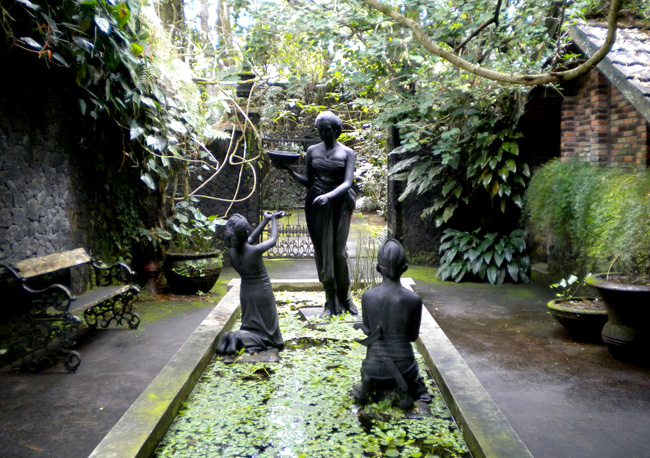 Perhaps lots of people have already heard about the famous museum called Ullen Sentalu, which resides in Pakem Sub-District. Well, it is part of Kaswargan Park, after all. Both of them become tourists' recommended vacation spot for sightseeing and lessening as well. The location is in the west part of Kaliurang Park and it resides near to other attractions which tourists can visit later. In the terms of name, "Kaswargan" means the heaven or paradise. It is because the park represents the serenity and beauty of such place.
The Nuance
It is, without a doubt, Kaswargan Park features beautiful things like lush trees, various plants, grasses, and several traditional statues. As mentioned before, Ullen Sentalu Museum is part of this part along with other interesting places like Beukenhof restaurant, Muse souvenir store, boutique, and Haryono Family's house. In terms of nuance, the park shares the majestic aura of Merapi Mountain and classical culture. According to the locals, in fact, this park was the home of gods (based on Javanese Philosophy). Other people say the park is the home of a powerful person named Sapu Jagat who has the ability to wipe out the entire universe!
Exploring Kaswargan Park
Like the name implies, Kaswargan Park is indeed beautiful. The location is on 878 meters above the sea, so it offers a soothing atmosphere and green environment. Sometimes, in fact, the fog covers the site and creates a more interesting nuance. Not to mention visitors would feel the Javanese culture when spending time there. All these features of the park combine into one and provide a comfy ambiance to the guests. No wonder, the first thing tourists can do is to relax and find peace.
The next recommended thing to do in Kaswargan Park is to learn the history of the site. It is said the park has been there for decades and passes through gradual development since 1985. At the first time, only Selagiri Cave and Kambang Village became the main features of this park. Later, Ullen Sentalu Museum and other attractions completed this site. Even tourists can find a dance training gallery there! Other attractions include "Ruang Budaya" (culture gallery) and Selasar Retja Landa (the place to display numerous historical figurines.
However, due to the eruption of Merapi Mountain, some of those features no longer reside on the site. This is not a bad thing, though. Today, travelers can enjoy many things in the park including the natural beauty, culture, history, and the traces of the wrath of Merapi's eruption.
Nearby Attractions
Bening Village
Tanen Village
Turgo Cave
Lava Tour Site
Kaligriya Kaliurang
How to Get There
As mentioned earlier, Kaswargan Park belongs to Pakem Sub-District. The distance is 28.8 km from Adisucipto International Airport, so the trip is likely to take around 55 minutes to get there. Also, this can be done through Pakem – Kalasan Street. To be exact, the park resides in Hargobinangun Village, which is in the west part of Kaliurang.
Where to Stay
Kana Hotel
Sewu Padi Hotel
Anugrah Wisata Hotel

Latest News
LABUHAN KERATON NGAYOGYAKARTA Labuhan Keraton or the Royal Offerings of Yogyakarta is usually performed on the 30th of Rajab, so it will probably be hold on Thursday, 27 April 2017, at 07.00 am at the "Pendhapa" (Javanese Mansion) of Kretek Subdistrict Office. The Ngayogyakarta Royal servants transfer the vessels of the offering-implement to the Bantul Government. Then the offering-implement is delivered to the "Pendhapa" of Parangkusumo, and given to the caretaker to be arranged in "ancak" (the vessel made of bamboo). After the prayer fort it in "cepuri" (a supporting…
---
https://www.youtube.com/watch?v=218GWVk1pL4 Ratu Boko Palace is located in Jl. Raya Piyungan, 3 km south of Prambanan Temple at Dawung and Sambirejo villages, Piyungan, or 19 km east of Jogjakarta. It opens daily 6 am – 5.30 pm and it entrance fee charged. Ratu Boko Palace is a huge complex built on 16 hectares as the residence of King Boko of the first Mataram dynasty. Local legend says that Ratu Boko liked to eat human flesh. Primarily in ruins, visitors must use their imaginations to fill in historical and structural gaps. Gold…
---
Ratu Boko Temple Settled on a hillside plateau, overlooking Prambanan temple complex and with a view to Mount Merapi behind Prambanan Temple complex, lie the remains of a once grand palace. The palace (kraton) is named Ratu Boko after a King Boko of local folklore, but the real owner of the palace is more likely to have been a king of a local dynasty. Ratu Boko temple is located on a plateau, about three kilometres south of Lara Jonggrang Prambanan temple complex in Yogyakarta Central Java, Indonesia. Grand stone gates,…
---
To support the need of recreational things in Yogyakarta, the accommodation is also increase. In fact, there are numbers of star hotels and non-star hotels that ready to serve their specialties to comfort your stay. Hence, this Hotels In Yogyakarta is made. This application is kind of reference to provide the information and news for tourists that want to stay in Yogyakarta. There are numbers of Hotels and its description, and it can be accessed from iPad, iPhone and Android.  
---