Labuhan Ceremony in Cangkringan Sub-District, Yogyakarta - Indonesia
---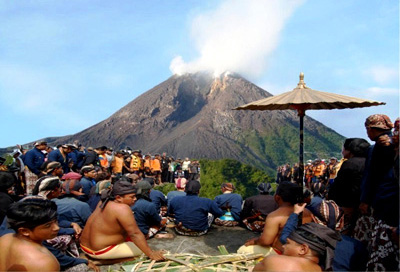 Tourists have a different impression when it is on a vacation in Kaliurang Park. It is true that most of them may think about natural tourism, but they should not overlook other available attractions of the site including traditional ceremonies done by the locals. For instance, it is Labuhan Ceremony (which is the signature tradition of Yogyakarta Palace). Usually, it is done during Rejeb Month in either Lawu or Parangkusumo Beach. However, it is also part of Merapi Mountain's attraction and done in Srimanganti Post 1, Kinahrejo Village.
The Nuance
When it comes to the nuance, Labuhan Ceremony is indeed both merry and sacred. The locals wear traditional costume and they gather to conduct a convoy to the destined location. Usually, the checkpoint is in Kinahrejo Village (where the deceased Marijan lived) before heading to Srimanganti Post 1. The villagers carry several offerings to such spot to show their sincerity to nature. Hopefully, they can prevent disasters and misfortunes that may come in the future. Merapi Mountain is one of the most sacred natures, so the locals take a good care of it in order to prevent the wrath of nature.
Exploring Labuhan Ceremony
The procession starts in the house of deceased Marijan. People would gather in the pendopo and prepare everything before heading to the Srimanganti Post 1. Here is the good thing. Tourists are allowed to join the ceremony as long as they wear appropriate clothes and follow the instructions given by the locals. During the journey, these people would pray together to make sure the procession runs smoothly. There would be the time when they take some time to rest, as well.
While resting, they would use an open field to place offerings (Ubo Rampe) on the altar. This takes about 5-10 minutes depending on the weather and the number of participants. Next, they are going to the destined post without taking another rest. Once arriving at the site, the leader (Juru Kunci) conducts the prime offerings ceremony and put some required items like Sinjang Cangkring, Lisah Konyoh, Sinjang Limar, etc. Actually, Labuhan Merapi was led by Marijan when he was still alive. It has been passed down to the next Juru Kunci due to his death, though.
During the ceremony, these people would burn incense as well and pray together to prevent the future eruption of Merapi Mountain. The procession runs quietly, emitting a strange atmosphere! No wonder, tourists would feel uncomfortable to do inappropriate things during the event. It is common sense, as Labuhan is something that everyone should respect after all.
Nearby Attractions
Klangon Hill
Kalitalang
Kalikuning Park
Pronojiwo Peak
Merapi Bunker
How to Get There
For those who want to either join or witness Merapi Labuhan Ceremony, they need to head to Cangkringan Sub-District first. From Adisucipto International Airport, the trip may take about an hour as the distance is 28.8 km. Next, they can head to Kinahrejo Village directly to gather with villagers or other participants. As for the route, it is better to take Pakem – Kalasan Street.
Where to Stay
Klenting Kuning Hotel
Sido Akur Hotel
Setyawati Hotel
Griya Persada Hotel
Anggrek Bulan Hotel

Latest News
LABUHAN KERATON NGAYOGYAKARTA Labuhan Keraton or the Royal Offerings of Yogyakarta is usually performed on the 30th of Rajab, so it will probably be hold on Thursday, 27 April 2017, at 07.00 am at the "Pendhapa" (Javanese Mansion) of Kretek Subdistrict Office. The Ngayogyakarta Royal servants transfer the vessels of the offering-implement to the Bantul Government. Then the offering-implement is delivered to the "Pendhapa" of Parangkusumo, and given to the caretaker to be arranged in "ancak" (the vessel made of bamboo). After the prayer fort it in "cepuri" (a supporting…
---
https://www.youtube.com/watch?v=218GWVk1pL4 Ratu Boko Palace is located in Jl. Raya Piyungan, 3 km south of Prambanan Temple at Dawung and Sambirejo villages, Piyungan, or 19 km east of Jogjakarta. It opens daily 6 am – 5.30 pm and it entrance fee charged. Ratu Boko Palace is a huge complex built on 16 hectares as the residence of King Boko of the first Mataram dynasty. Local legend says that Ratu Boko liked to eat human flesh. Primarily in ruins, visitors must use their imaginations to fill in historical and structural gaps. Gold…
---
Ratu Boko Temple Settled on a hillside plateau, overlooking Prambanan temple complex and with a view to Mount Merapi behind Prambanan Temple complex, lie the remains of a once grand palace. The palace (kraton) is named Ratu Boko after a King Boko of local folklore, but the real owner of the palace is more likely to have been a king of a local dynasty. Ratu Boko temple is located on a plateau, about three kilometres south of Lara Jonggrang Prambanan temple complex in Yogyakarta Central Java, Indonesia. Grand stone gates,…
---
To support the need of recreational things in Yogyakarta, the accommodation is also increase. In fact, there are numbers of star hotels and non-star hotels that ready to serve their specialties to comfort your stay. Hence, this Hotels In Yogyakarta is made. This application is kind of reference to provide the information and news for tourists that want to stay in Yogyakarta. There are numbers of Hotels and its description, and it can be accessed from iPad, iPhone and Android.  
---