Chrysanthemum Cultivation Site in Pakem Sub-District, Yogyakarta - Indonesia
---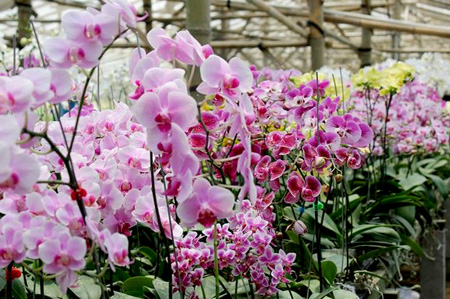 When it comes to a vacation in Kaliurang Park, travelers get many options of attractions including an interesting place called Chrysanthemum Cultivation Site. The location is in Hargobinangun Village and it belongs to Pakem Sub-District. Well, as the name suggests, it is the place where the locals cultivate beautiful flowers of Chrysanthemum. That means visitors can take pictures in front of these colorful flowers and learn how to cultivate them from the gardeners. The good thing is that there is no fee to enter the site, as long as the owner has given the permission to visitors beforehand.
The Nuance
Despite the fact that Chrysanthemum is a common species of flower, both the locals and tourists consider them special. Thanks to the variety of colors. They look amazing and are worth a photo shoot. In terms of size, the site is not quite big, though. The place opens for visitors in the morning until 5 pm, so everyone has enough time to explore it before heading to the main attraction of Pakem Sub-District, which is Kaliurang. As mentioned before, there is no required fee but it is better to carry some cash as a preparation.
Exploring Chrysanthemum Cultivation Site
Here is the tip. In order to avoid disappointment, it is better to come to Chrysanthemum Cultivation Site during the harvest seasons, which is usually once every three months. Thus, tourists must find information regarding the availability of these flowers before visiting the location. Also, hiring a local guide is quite recommended as he can help them to talk to the owner or gardeners, for the sake of permission. He even can help tourists to get a short training how to cultivate the flowers!
Once tourists enter the site, they can directly explore and watch the collection of Chrysanthemum. The color is various, but these flowers share a similar size and shape. Due to such beauty, visitors are likely to bring out their camera and take pictures of those objects. Taking selfies is quite recommended, too, actually. Later, they can approach the gardeners to learn how to take care and cultivate the flowers depending whether these people are busy or not. Thus, having a good communication skill would be quite helpful.
Perhaps some visitors want to pick some flowers to bring home. Well, it is a common demand after all. The fact is the gardeners would allow tourists to do so, but they would charge some fee, depending on the amount of the flowers picked by them. What is next? Before going home, tourists can drop by at the nearby traditional herbal drinks seller located in front of Chrysanthemum Cultivation Site. The taste is unique and it gives an excellent health boost to the body, as well. Not to mention the price is quite affordable. 

Nearby Attractions
Merapi Peak
Bening Village
Tanen Village
76 Hill
Merapi National Park
How to Get There
From Adisucipto International Airport, tourists can directly head to Pakem Sub-District and reach Chrysanthemum Cultivation Site afterward. The distance is 26.7 km, so the trip may take around 55 minutes. As for the route, the best one to take is Cangkringan Street.
Where to Stay
Griya Persada Hotel
Ngesti Laras Hotel
Eden 2 Hotel
Paraksari Hotel

Latest News
LABUHAN KERATON NGAYOGYAKARTA Labuhan Keraton or the Royal Offerings of Yogyakarta is usually performed on the 30th of Rajab, so it will probably be hold on Thursday, 27 April 2017, at 07.00 am at the "Pendhapa" (Javanese Mansion) of Kretek Subdistrict Office. The Ngayogyakarta Royal servants transfer the vessels of the offering-implement to the Bantul Government. Then the offering-implement is delivered to the "Pendhapa" of Parangkusumo, and given to the caretaker to be arranged in "ancak" (the vessel made of bamboo). After the prayer fort it in "cepuri" (a supporting…
---
https://www.youtube.com/watch?v=218GWVk1pL4 Ratu Boko Palace is located in Jl. Raya Piyungan, 3 km south of Prambanan Temple at Dawung and Sambirejo villages, Piyungan, or 19 km east of Jogjakarta. It opens daily 6 am – 5.30 pm and it entrance fee charged. Ratu Boko Palace is a huge complex built on 16 hectares as the residence of King Boko of the first Mataram dynasty. Local legend says that Ratu Boko liked to eat human flesh. Primarily in ruins, visitors must use their imaginations to fill in historical and structural gaps. Gold…
---
Ratu Boko Temple Settled on a hillside plateau, overlooking Prambanan temple complex and with a view to Mount Merapi behind Prambanan Temple complex, lie the remains of a once grand palace. The palace (kraton) is named Ratu Boko after a King Boko of local folklore, but the real owner of the palace is more likely to have been a king of a local dynasty. Ratu Boko temple is located on a plateau, about three kilometres south of Lara Jonggrang Prambanan temple complex in Yogyakarta Central Java, Indonesia. Grand stone gates,…
---
To support the need of recreational things in Yogyakarta, the accommodation is also increase. In fact, there are numbers of star hotels and non-star hotels that ready to serve their specialties to comfort your stay. Hence, this Hotels In Yogyakarta is made. This application is kind of reference to provide the information and news for tourists that want to stay in Yogyakarta. There are numbers of Hotels and its description, and it can be accessed from iPad, iPhone and Android.  
---