Merti Bumi Ceremony in Turi Sub-District, Yogyakarta - Indonesia
---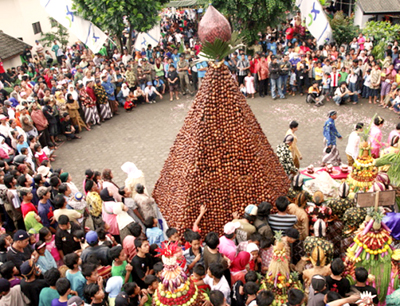 Aside from natural attractions, Merapi National Park (Kaliurang) has other interesting allures. These include several traditional ceremonies done by the locals. As for the reference, tourists can witness Merti Bumi Ceremony. Usually, people of Tunggal Arum Village conduct such ceremony every Sapar Month and before the harvest season. This ceremony is also commonly done by the people who live in Turi Sub-District! As for tourists, they can take advantage of the ceremony to get new insight regarding local culture and consider it an attraction, too.
The Nuance
Like other local events, many people gather in an open field of Tunggal Arum Village, including villagers and tourists. The nuance feels so joyful and merry, for sure. The best feature of the event is perhaps the "Salak Gunungan", which is the pile of snake fruits. Other smaller Gunungan are also seen but they consist of other types of fruits and foods instead of Salak. Only the committee and chosen people wear traditional clothes. That means the audience doesn't have to wear such costume, which is good news for tourists. They do not need to change clothes in order to watch or join the ceremony when coming there.
Enjoying Merti Bumi Ceremony
Tunggal Arum Village becomes the best place for those who want to witness Merti Bumi Ceremony. However, the event is not available every day so tourists should come at the right time (usually during Sapar Month). As an alternative, tourists should consider visiting the site during the harvest season. It is because the locals conduct such ceremony at such special occasion in order to get abundant and successful yields.
According to the locals, Merti Bumi Ceremony also has the purpose to retain the value of culture owned by the people who live in this area. No wonder, villagers never skip the ceremony when the time comes. They even allow tourists to watch and join the ceremony, as long as those people follow the procedures and obey the rules well. Today, in fact, the event has attracted more tourists and makes it more popular among travelers. Somehow, it helps the audience to learn local culture and helps them to appreciate it better.
During the procession, the participants may conduct several phases. First, they may go to collect holy water from different locations. Later, some art performances occur and the locals pray together for good fortunes and abundant harvest. Once it is done, the next activity is to throw a bazaar! As for the peak event, they may perform several carnivals including Tumpeng Wulu Wetu, Persembahan Dance, Pusaka Carnival, Gunungan Salak, etc.
Nearby Attraction
Pancoh Village
Bening Village
Jaka Garong
Kelor Village
How to Get There
From Adisucipto International Airport, travelers' prime destination is Turi Sub-District. The distance is 26.8 km, so it takes about 55 minutes to get to the location. What they need to do next is to get to Tunggal Arum Village directly. This whole trip can be done through Turi Street, which is the best route to take.
Where to Stay
Pakemsari Hotel
Eden II Hotel
Ngesti Laras Hotel
Paraksari Hotel

Latest News
LABUHAN KERATON NGAYOGYAKARTA Labuhan Keraton or the Royal Offerings of Yogyakarta is usually performed on the 30th of Rajab, so it will probably be hold on Thursday, 27 April 2017, at 07.00 am at the "Pendhapa" (Javanese Mansion) of Kretek Subdistrict Office. The Ngayogyakarta Royal servants transfer the vessels of the offering-implement to the Bantul Government. Then the offering-implement is delivered to the "Pendhapa" of Parangkusumo, and given to the caretaker to be arranged in "ancak" (the vessel made of bamboo). After the prayer fort it in "cepuri" (a supporting…
---
https://www.youtube.com/watch?v=218GWVk1pL4 Ratu Boko Palace is located in Jl. Raya Piyungan, 3 km south of Prambanan Temple at Dawung and Sambirejo villages, Piyungan, or 19 km east of Jogjakarta. It opens daily 6 am – 5.30 pm and it entrance fee charged. Ratu Boko Palace is a huge complex built on 16 hectares as the residence of King Boko of the first Mataram dynasty. Local legend says that Ratu Boko liked to eat human flesh. Primarily in ruins, visitors must use their imaginations to fill in historical and structural gaps. Gold…
---
Ratu Boko Temple Settled on a hillside plateau, overlooking Prambanan temple complex and with a view to Mount Merapi behind Prambanan Temple complex, lie the remains of a once grand palace. The palace (kraton) is named Ratu Boko after a King Boko of local folklore, but the real owner of the palace is more likely to have been a king of a local dynasty. Ratu Boko temple is located on a plateau, about three kilometres south of Lara Jonggrang Prambanan temple complex in Yogyakarta Central Java, Indonesia. Grand stone gates,…
---
To support the need of recreational things in Yogyakarta, the accommodation is also increase. In fact, there are numbers of star hotels and non-star hotels that ready to serve their specialties to comfort your stay. Hence, this Hotels In Yogyakarta is made. This application is kind of reference to provide the information and news for tourists that want to stay in Yogyakarta. There are numbers of Hotels and its description, and it can be accessed from iPad, iPhone and Android.  
---