The Blue Lagoon in Ngemplak Sub-District, Pakem Regency Yogyakarta - Indonesia
---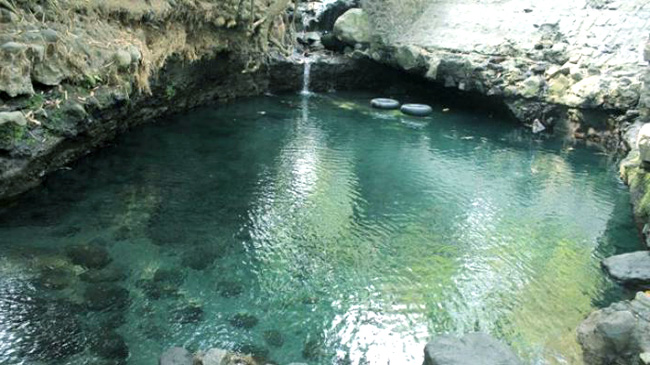 For everyone coming to Yogyakarta Indonesia, visiting Pakem Regency would be a good idea. Why is that? One of the reasons is to visit a beautiful natural attraction called the Blue Lagoon or Tirta Budi Natural Bath. The location is in Widodomartani Village and it belongs to Ngemplak Sub-District. Visitors come to the site to enjoy bathing, photography, and exploration actually. In fact, some people come to the location to find inspiration and peace. Due to its popularity, more tourists are aware of it and would include it in the list of natural attractions to visit when coming to Yogyakarta.
The Nuance
As the name suggests, the locals call it the Blue Lagoon due to its beautiful bluish color of the water. Even the sun ray reflects gorgeously on the surface of the water! In terms of nuance, it is both shady and comfortable due to the presence of bamboo trees growing on the site. Here is the fact. The lagoon is part of Sendang Lanang Spring and tourists use it for bathing. Actually, other springs reside near to the location including Sendang Wadon and Belik Kluwih. They are, somehow, worth a visit as well.
Exploring the Blue Lagoon
In the past, the site was merely a normal river without any name. As the time went by, the locals named it Tirta Budi and include it in the list of recommended natural attractions in Kaliurang area. Why is the name, actually? "Tirta" means water and "Budi" is the name of a person. According to the locals, this man got drowned in this place during swimming due to epilepsy. No one was around when he struggled in the water. Later, in order to remember this man, the villagers used his name for the site.
Aside from learning the history of the Blue Lagoon, visitors should never miss the chance to get in the water and enjoy either swimming or bathing. The water looks stunning with its bluish color, which resembles those of the Iceland's. Due to its popularity and uniqueness, several famous artists came to the site including Sheila on 7's guitarist Erros and many others. Also, foreigners often come to this place, especially during long holidays.
The Blue Lagoon becomes an official tourist attraction since 2015 and it keeps luring more visitors due to its beautiful and soothing water, actually. Just because it is new, doesn't mean travelers may overlook its potential. On the other hand, they take good pictures and spread its beauty to their friends and other nature lovers either through mouth or internet. There is only one rule for visitors that they are not allowed to litter or spoil the environment during swimming.
Nearby Attractions
Oni Jaya Aquarium
Lele Monument
How to Get There
From Adisucipto International Airport, travelers only need to take a local transportation service like bus or taxi and head to Ngemplak Sub-District. This can be done through Cangkringan Street and the distance is 12.9 km. Later, their next destination is Widodomartani Village where the Blue Lagoon resides. The whole trip takes around 30 minutes, actually.
Where to Stay
Crystal Lotus Hotel
Sambi Resort
Alam Jogja Resort
Poeri Devata Resort

Latest News
LABUHAN KERATON NGAYOGYAKARTA Labuhan Keraton or the Royal Offerings of Yogyakarta is usually performed on the 30th of Rajab, so it will probably be hold on Thursday, 27 April 2017, at 07.00 am at the "Pendhapa" (Javanese Mansion) of Kretek Subdistrict Office. The Ngayogyakarta Royal servants transfer the vessels of the offering-implement to the Bantul Government. Then the offering-implement is delivered to the "Pendhapa" of Parangkusumo, and given to the caretaker to be arranged in "ancak" (the vessel made of bamboo). After the prayer fort it in "cepuri" (a supporting…
---
https://www.youtube.com/watch?v=218GWVk1pL4 Ratu Boko Palace is located in Jl. Raya Piyungan, 3 km south of Prambanan Temple at Dawung and Sambirejo villages, Piyungan, or 19 km east of Jogjakarta. It opens daily 6 am – 5.30 pm and it entrance fee charged. Ratu Boko Palace is a huge complex built on 16 hectares as the residence of King Boko of the first Mataram dynasty. Local legend says that Ratu Boko liked to eat human flesh. Primarily in ruins, visitors must use their imaginations to fill in historical and structural gaps. Gold…
---
Ratu Boko Temple Settled on a hillside plateau, overlooking Prambanan temple complex and with a view to Mount Merapi behind Prambanan Temple complex, lie the remains of a once grand palace. The palace (kraton) is named Ratu Boko after a King Boko of local folklore, but the real owner of the palace is more likely to have been a king of a local dynasty. Ratu Boko temple is located on a plateau, about three kilometres south of Lara Jonggrang Prambanan temple complex in Yogyakarta Central Java, Indonesia. Grand stone gates,…
---
To support the need of recreational things in Yogyakarta, the accommodation is also increase. In fact, there are numbers of star hotels and non-star hotels that ready to serve their specialties to comfort your stay. Hence, this Hotels In Yogyakarta is made. This application is kind of reference to provide the information and news for tourists that want to stay in Yogyakarta. There are numbers of Hotels and its description, and it can be accessed from iPad, iPhone and Android.  
---