Kaligriya Kaliurang in Pakem Sub-District, Yogyakarta - Indonesia
---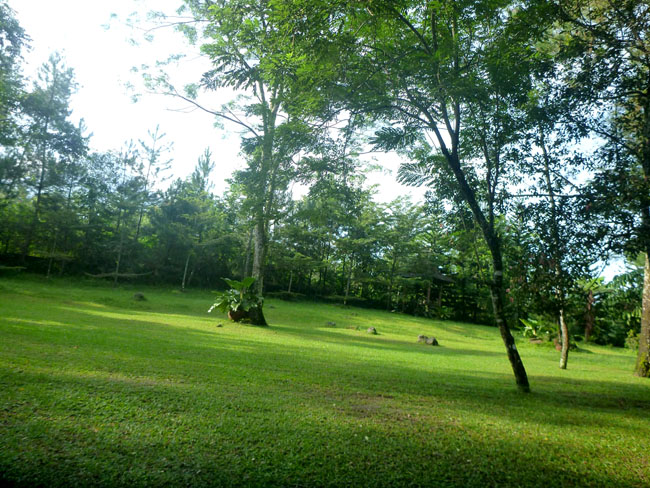 Almost all people love outdoor activities and outbound with families. In this case, a good reference is available, which is Kaligriya Kaliurang. The location is in Hargobinangun Village and it belongs to Pakem Sub-District. Another important fact is that it is one of the most recommended outbound sites aside from Shaba and others. What makes it a good site, actually? People come to this site to bond with friends or families, enjoy numerous outdoor activities, and get rid of stresses with the help of nature. Also, some corporations choose this place to conduct team building for their employees!
The Nuance
In terms of nuance, Kaligriya Kaliurang seems more comfortable than other outbound sites located near to Kaliurang Area. The reason is none other than the presence of various types of trees and shady plants. Not to mention the grasses are greener and fresher. Do not forget that the site features refreshing air of the mountain, too. Have no worries. The size of this outbound site is considered wide, so it can accommodate lots of visitors regardless of the time of the visit. Another good thing is that the management provides several outbound programs for tourists to choose from.
Exploring Kaligriya Kaliurang
A good thing about Kaligriya Kaliurang Outbound Site is that it offers soothing atmosphere. Thanks to the strategic location. This explains why visitors would spend some time on the site for refreshing and relaxation. These people are usually citizens who want to get rid of stresses and escape from their daily routines. They do not have to do outbound activities, in fact. It is because they can simply sit and relax on the site while enjoying its peaceful atmosphere.
The next reason why Kaligriya Kaliurang Outbound Site becomes popular is due to its popularity among companies. Several corporations often choose the site as the place for a special program called experiential learning. The purpose is to replace the burden of workloads with a refreshed mind. This way, the employees can improve their working efficacy as their level of happiness is high. Plus, they can bond with others and improve their working compatibility too. That means this outbound site gives a great boost and motivation, especially to those people.
What is more? The site is also famous for its paintball game. Many teenagers and locals often come to the site to enjoy such fun sports with their friends, after all. At special occasions, visitors can even enjoy live music shows and Merapi tour! Not only the site is available for the locals, it accommodates those who come from other regions too. Moreover, the management offers a shuttle service for those who need it.
Nearby Attractions
The Lost World Castle
Naura Mushroom
Merapi Peak
Sisa Hartaku Museum
Turgo Cave
How to Get There
Tourists can take Kaliurang Street to get to Kaligriya Kaliurang Outbound Site. The distance is 22.9 km from Adisucipto International Airport, so they may take only 45 minutes to get there. As for the transportation, many options are available including buses and taxi. Renting a car becomes a good option, as well, for those who come from other regions.
Where to Stay
Kana Hotel
Sewu Padi Hotel
Setyawati Hotel
Anugrah Wisata Hotel
Raffles Hotel

Latest News
LABUHAN KERATON NGAYOGYAKARTA Labuhan Keraton or the Royal Offerings of Yogyakarta is usually performed on the 30th of Rajab, so it will probably be hold on Thursday, 27 April 2017, at 07.00 am at the "Pendhapa" (Javanese Mansion) of Kretek Subdistrict Office. The Ngayogyakarta Royal servants transfer the vessels of the offering-implement to the Bantul Government. Then the offering-implement is delivered to the "Pendhapa" of Parangkusumo, and given to the caretaker to be arranged in "ancak" (the vessel made of bamboo). After the prayer fort it in "cepuri" (a supporting…
---
https://www.youtube.com/watch?v=218GWVk1pL4 Ratu Boko Palace is located in Jl. Raya Piyungan, 3 km south of Prambanan Temple at Dawung and Sambirejo villages, Piyungan, or 19 km east of Jogjakarta. It opens daily 6 am – 5.30 pm and it entrance fee charged. Ratu Boko Palace is a huge complex built on 16 hectares as the residence of King Boko of the first Mataram dynasty. Local legend says that Ratu Boko liked to eat human flesh. Primarily in ruins, visitors must use their imaginations to fill in historical and structural gaps. Gold…
---
Ratu Boko Temple Settled on a hillside plateau, overlooking Prambanan temple complex and with a view to Mount Merapi behind Prambanan Temple complex, lie the remains of a once grand palace. The palace (kraton) is named Ratu Boko after a King Boko of local folklore, but the real owner of the palace is more likely to have been a king of a local dynasty. Ratu Boko temple is located on a plateau, about three kilometres south of Lara Jonggrang Prambanan temple complex in Yogyakarta Central Java, Indonesia. Grand stone gates,…
---
To support the need of recreational things in Yogyakarta, the accommodation is also increase. In fact, there are numbers of star hotels and non-star hotels that ready to serve their specialties to comfort your stay. Hence, this Hotels In Yogyakarta is made. This application is kind of reference to provide the information and news for tourists that want to stay in Yogyakarta. There are numbers of Hotels and its description, and it can be accessed from iPad, iPhone and Android.  
---