Shaba Outbound in Pakem Sub-District, Yogyakarta - Indonesia
---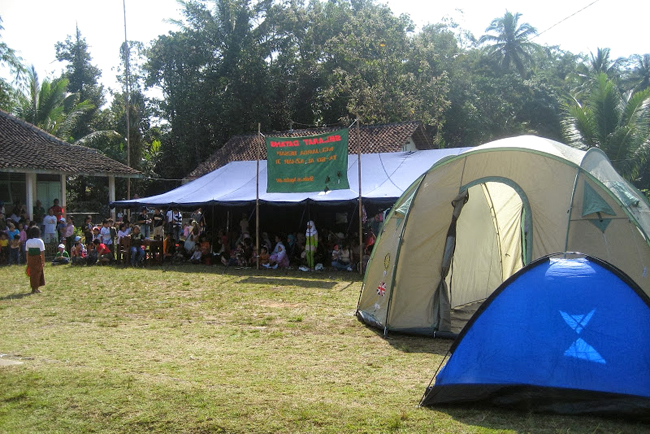 A family recreation in Kaliurang Park is always popular among tourists. Aside from sightseeing, they also want to enjoy other fun things like outbound and outdoor activities. The good thing is that they have several options of locations where they can enjoy such stuff, including at Shaba Outbound site. The location is in Karanggeneng Village and it belongs to Pakem Sub-District. It resides near to Perjuangan Srowolan Market and has been managed professionally by the locals. That means the guests can enjoy outbound activities without neglecting the safety and comfort element.
The Nuance
Despite the good management, Shaba Outbound does not feature advanced facilities. That means visitors would see the modest outbound rides made from bamboos and other local materials. Still, the keepers or people who work on the site would make sure the safety of all the guests. This way, parents do not need to worry regarding their kids' protection while spending a good time on the site. Not only the locals, but visitors also come from other regions! Even foreigners come to this location sometimes. It becomes a perfect place to get closer to nature and bond with families, after all.
Exploring Shaba Outbound
Shaba Outbound puts forward interesting land topography and natural beauty. This way, visitors can enjoy outdoor activities in a more satisfying manner as compared to an artificial outbound arena. The first allure of this site is the opportunity to explore the river, which belongs to the nearby village. During this adventure, the staff would accompany the guests through such activity. No wonder, it becomes safer for those who never had that experience before. Moreover, river exploration suits everyone regardless of the age including kids.
What is next? Shaba Outbound suits those who love the nuance of the countryside, including the songs of the birds and cold atmosphere of the highland. Here is the good thing. The site is unspoiled, so nature looks so pristine and clean. This is why the participants of the outbound program should not litter or cause any harm to the site. Even though the locals and management take a good care of the site, visitors should do the same when spending a good time there.
Aside from river exploration, Shaba Outbound offers other opportunities like climbing. The locals have built some rides made of bamboo, after all. Have no worries. Despite the modest appearance, these are safe and sturdy. Both the staff and villagers would explain clearly regarding how to use those rides as well. It would be merrier as they would join tourists as well to do some fun activities together.
Nearby Attractions
Gabugan Village
Kembang Arum Palagan Monument
Turi Village
How to Get There
For those coming from Adisucipto International Airport, they can head to Pakem Sub-District right away. Their next destination is indeed Karanggeneng Village where Shaba Outbound site resides. The whole trip has the distance of 21.7 km, so it takes around 45 minutes to get to the location. Make sure to use North Ring Road Street, though.
Where to Stay
Pakem Sari Hotel
Kana Hotel
Pisang Resort
Akasa Hotel


Latest News
LABUHAN KERATON NGAYOGYAKARTA Labuhan Keraton or the Royal Offerings of Yogyakarta is usually performed on the 30th of Rajab, so it will probably be hold on Thursday, 27 April 2017, at 07.00 am at the "Pendhapa" (Javanese Mansion) of Kretek Subdistrict Office. The Ngayogyakarta Royal servants transfer the vessels of the offering-implement to the Bantul Government. Then the offering-implement is delivered to the "Pendhapa" of Parangkusumo, and given to the caretaker to be arranged in "ancak" (the vessel made of bamboo). After the prayer fort it in "cepuri" (a supporting…
---
https://www.youtube.com/watch?v=218GWVk1pL4 Ratu Boko Palace is located in Jl. Raya Piyungan, 3 km south of Prambanan Temple at Dawung and Sambirejo villages, Piyungan, or 19 km east of Jogjakarta. It opens daily 6 am – 5.30 pm and it entrance fee charged. Ratu Boko Palace is a huge complex built on 16 hectares as the residence of King Boko of the first Mataram dynasty. Local legend says that Ratu Boko liked to eat human flesh. Primarily in ruins, visitors must use their imaginations to fill in historical and structural gaps. Gold…
---
Ratu Boko Temple Settled on a hillside plateau, overlooking Prambanan temple complex and with a view to Mount Merapi behind Prambanan Temple complex, lie the remains of a once grand palace. The palace (kraton) is named Ratu Boko after a King Boko of local folklore, but the real owner of the palace is more likely to have been a king of a local dynasty. Ratu Boko temple is located on a plateau, about three kilometres south of Lara Jonggrang Prambanan temple complex in Yogyakarta Central Java, Indonesia. Grand stone gates,…
---
To support the need of recreational things in Yogyakarta, the accommodation is also increase. In fact, there are numbers of star hotels and non-star hotels that ready to serve their specialties to comfort your stay. Hence, this Hotels In Yogyakarta is made. This application is kind of reference to provide the information and news for tourists that want to stay in Yogyakarta. There are numbers of Hotels and its description, and it can be accessed from iPad, iPhone and Android.  
---