Kaliurang
---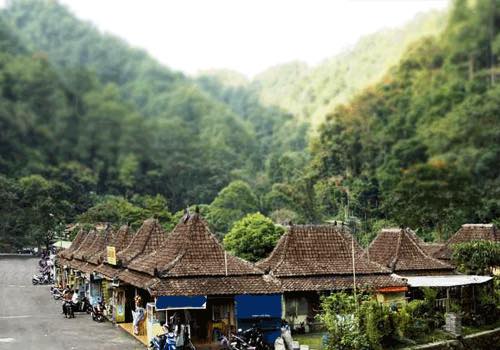 This resort is located on the slopes of Mt. Merapi, 24 km north of Yogyakarta and surrounded by an enchanting countryside. "Telogo Muncar" waterfall and swimming pool make this resort a very pleasant recreation place. Kaliurang lies at the foot of Plawangan hill on the southern slope of mount Merapi, some 28 km, north of Yogyakarta. This is a refreshing holiday resort for those seeking refuge and tranquility amidst the lush green tropical splendor.
Many people visit Kaliurang, especially during the holidays. Young people, like boy scouts, enjoy going there since the town provides camping sites and places for mountaineering. Those who like mountain climbing can climb Merapi Mountain from Kaliurang. One can stay overnight in Kaliurang then start, in the early morning, climbs Merapi via Kinahrejo village to descend again at noon.
When the weather is clear, a spectacular sight of the panoramic view that covers the surrounding forest of Plawangan and Kaliurang, and the rolling green countryside that fades into the distant misty horizon of the blue Indian Ocean can be seen easily. The best time to view the mountain is shortly after sunrise (before 09.00 o'clock), when the early morning light starts lifting up the shroud of mist around its peak.

Latest News
LABUHAN KERATON NGAYOGYAKARTA Labuhan Keraton or the Royal Offerings of Yogyakarta is usually performed on the 30th of Rajab, so it will probably be hold on Thursday, 27 April 2017, at 07.00 am at the "Pendhapa" (Javanese Mansion) of Kretek Subdistrict Office. The Ngayogyakarta Royal servants transfer the vessels of the offering-implement to the Bantul Government. Then the offering-implement is delivered to the "Pendhapa" of Parangkusumo, and given to the caretaker to be arranged in "ancak" (the vessel made of bamboo). After the prayer fort it in "cepuri" (a supporting…
---
https://www.youtube.com/watch?v=218GWVk1pL4 Ratu Boko Palace is located in Jl. Raya Piyungan, 3 km south of Prambanan Temple at Dawung and Sambirejo villages, Piyungan, or 19 km east of Jogjakarta. It opens daily 6 am – 5.30 pm and it entrance fee charged. Ratu Boko Palace is a huge complex built on 16 hectares as the residence of King Boko of the first Mataram dynasty. Local legend says that Ratu Boko liked to eat human flesh. Primarily in ruins, visitors must use their imaginations to fill in historical and structural gaps. Gold…
---
Ratu Boko Temple Settled on a hillside plateau, overlooking Prambanan temple complex and with a view to Mount Merapi behind Prambanan Temple complex, lie the remains of a once grand palace. The palace (kraton) is named Ratu Boko after a King Boko of local folklore, but the real owner of the palace is more likely to have been a king of a local dynasty. Ratu Boko temple is located on a plateau, about three kilometres south of Lara Jonggrang Prambanan temple complex in Yogyakarta Central Java, Indonesia. Grand stone gates,…
---
To support the need of recreational things in Yogyakarta, the accommodation is also increase. In fact, there are numbers of star hotels and non-star hotels that ready to serve their specialties to comfort your stay. Hence, this Hotels In Yogyakarta is made. This application is kind of reference to provide the information and news for tourists that want to stay in Yogyakarta. There are numbers of Hotels and its description, and it can be accessed from iPad, iPhone and Android.  
---